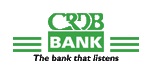 CRDB Bank
CRDB Bank 1 Year Fixed Deposit
| | |
| --- | --- |
| Type | Fixed |
| Rate | 7.50% |
| Currency | TZS |
This is TZS denominated account for a 12 month / 1 year term. It can be opened in TZS, USD, GBP, and EUR.
The rate of 7.50% is 4.67% higher than the average 2.83%. Also it is the highest rate for this term period. Updated Jul, 2017
Compare CRDB Bank 1 year rates
CRDB Bank Discussion
Q: 1.In case of any occurence of inflation it will affect the rate of fixed deposit.. 2.at the end of year..the amount of money which I have stated they will be returned

Q: What is the lowest amount for one to open a fixed account? Can I fox my money for 9 months? After depositing my money into fixed account Am I allowed to add as much as I can to that fixed account?

Q: How do i benefit from my fixed account.. What percent do i get from it?

Q: -What is minimum amount for opening fixed account?. - is there fixed account specifically for students.? -what are requirements needed for opening fixed account

Q: What is the interest gained in opening a fixed amount of 1.6 million for six month??